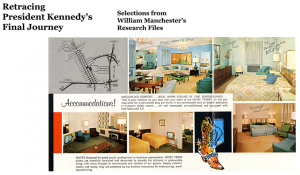 Now open!
Special Collections & Archives Exhibition Cases, Olin Library
On view daily during library hours
In early 1964, President John F. Kennedy's widow, Jacqueline Kennedy, decided that an authorized version of the events surrounding her husband's assassination in Dallas, Texas, on November 22, 1963—50 years ago this year—should be undertaken. Author William Manchester accepted the assignment, and researched and wrote what would become the bestselling book, The Death of a President, published in 1967. The exhibition, curated by University Archivist Leith Johnson, includes selections from the hundreds of items Manchester amassed, including private notes and correspondence, interview transcriptions, sketches, government documents, newspapers, souvenirs, and more.