1863/1963 Revisited: Open House in Special Collections & Archives
Tuesday, December 10, 2013, 2:00–4:00 pm
Davison Rare Book Room, 1st floor east, Olin Library, 252 Church Street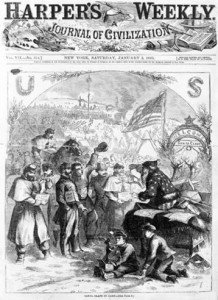 Take a break from the frenzy of finals!
As 2013 draws to a close, drop in at the Special Collections & Archives "1863/1963 Revisited" Open House.  Documents, books, photographs, and memorabilia from 150 and 50 years ago will be on display in the Davison Rare Book Room.  Highlights include momentous national events such as the Gettysburg Address (1863) and the publication of Betty Friedan's The Feminine Mystique (1963), as well as the contemporary Wesleyan scene.  The exhibition, "Retracing President Kennedy's Final Journey: Selections from William Manchester's Research Files," is also on view.
For more information contact SC&A at (860) 685-3864 or sca@wesleyan.edu.
Top image: "Welcome Santa Claus." Harper's Weekly, January 5, 1863.
Bottom image: Rev. Dr. Martin Luther King at the March on Washington, August 28, 1963.