FRIENDS OF THE WESLEYAN LIBRARY ANNUAL MEETING
"Heroes for All Time: Connecticut's Civil War Soldiers Tell Their Stories" — A talk by Dione Longley '82
Tuesday, April 21, 2015 • 7:00 pm
Develin Room, 2nd floor, Olin Memorial Library, 252 Church Street, Middletown
Free and open to the public.
An exhibit of Civil War materials from Special Collections & Archives will be on view from 6:30-7:00 and 8:00-8:45 in the Davison Rare Book Room, 1st floor, Olin Library.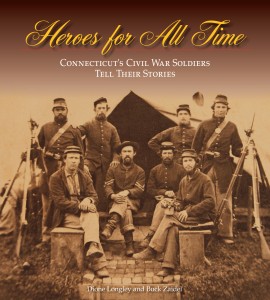 Dione Longley will speak about Heroes for All Time, the book she co-authored with Buck Zaidel using soldiers' letters and diaries and written accounts by nurses, doctors, soldiers' families, and volunteers on the home front to vividly portray the war through their moving stories.  The book includes hundreds of outstanding period photographs, most previously unpublished.
Dione graduated from Wesleyan with a BA in American Studies in 1982.  She was director of the Middlesex County Historical Society in Middletown for 20 years.  Now a public historian and writer, she resides in Higganum with her husband and two daughters.
Heroes for All Time is available from Wesleyan University Press, and will also be for sale by Broad Street Books at the event.  If you would like us to reserve a book for you, please email libfriends@wesleyan.edu.
For more information, email libfriends@wesleyan.edu.