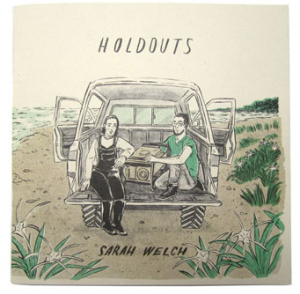 Exhibit opening Saturday, March 31, 2018 at 10:00 am – through Sunday, April 8
Olin Memorial Library Lobby 252 Church Street, Middletown 
FREE! Open to the public.
Related open house at Special Collections & Archives, Wednesday, April 4, 2018 4:30-6:30 pm
(From the Center for the Arts announcement)
Houston, Texas-based artists Sarah Welch and James Beard had their studio heavily damaged due to flooding caused by Hurricane Harvey in August 2017. The duo self-publishes zines, comics, and prints, and will create a reading room installation in the lobby of Olin Memorial Library.
Based on their recently published comic book Holdouts, the installation will feature a new screen-printed take-away poster, a new zine, and a collection of found and fabricated objects, all made while in residence at Wesleyan. The story of Holdouts takes place roughly 40 years in the future on a dramatically shifted Texas coastline. In this world, little progress has been made on curbing the effects of climate change—sea levels have significantly risen and climate migration has occurred en masse. Those unable or unwilling to leave their coastal homes are without government or city services and are forced to navigate an unpredictable and harsh biome.
The artists will spend the first week of their residency printing and preparing materials, and their installation will be on display from Saturday, March 31 through Sunday, April 8, 2018. The library is open Saturday from 10am to 10pm; Sunday from 10am to 2am; Monday through Thursday from 8:30am to 2am; and Friday from 8:30am to 11pm. Admission to the installation is free and open to the public.
On Wednesday, April 4, Special Collections & Archives will host an open house in the Davison Rare Book Room in conjunction with the art installation.  On view will be artists' books created by students in Introduction to Environmental Studies (E&ES 197) over the past several semesters.  (See the article in the most recent issue of Check It Out for more about the students' work.)  The open house will take place from 4:30 till 6:30 p.m. 
Click here to read more about Sarah Welch and James Beard, along with other artists affected by Harvey, on Glasstire.