+ Eligibility and application details for the third annual
Friends of the Wesleyan Library Undergraduate Research Prize
are available at http://libguides.wesleyan.edu/libprize/home.
The deadline is 5:00 pm February 22, 2019. +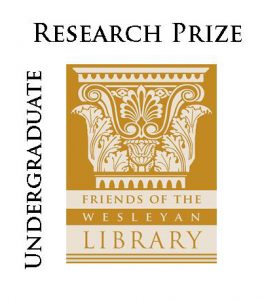 Projects will be evaluated based on the use of Wesleyan's library collections and resources as well as on the quality of writing and research. We are particularly interested in receiving applications that show evidence of learning about research techniques and the information-gathering process itself.
There will be two cash awards: a 1st-place prize worth $500 and a 2nd-place prize worth $250. This year's prizes are sponsored thanks to a generous donation by Stephen Darnell '69.
Faculty and librarians are encouraged to nominate students' work via the online nomination form.
Students may also nominate themselves directly via the application form.
All materials must be submitted electronically. Applications will consist of:
1)     An online application form
2)     Statement on the use of the Wesleyan libraries (maximum 600 words)
3)     Paper/Project
4)     Bibliography
The jury will be comprised of members of the Friends of Wesleyan Library Board, Wesleyan librarians, and Wesleyan faculty from Arts & Humanities, Social & Behavioral Sciences, and Natural Sciences & Mathematics.
Deadline: February 22, 2019.
Awards will be announced in April 2019.
For further information, contact the Friends of Wesleyan Library at libfriends@wesleyan.edu.