The Friends of the Wesleyan Library are pleased to honor the winners of the third annual Undergraduate Research Prize for excellence in library research and writing:
1st place: Emma Leuchten '19 (Anthropology and Religion), "Anthropology Beyond Belief: Navigating Dreams and Reality in the Burmese Weikza Tradition" – A Senior Essay submitted to the Anthropology Department (Prof. Traube)
2nd place:  Isaac Klimasmith '20(Biology), "Waters in the wilderness and rivers in the desert": Irrigation Myths in the History of Early Mormon Agriculture" – A paper written for ENVS 307: The Economy of Nature and Nations (Prof. Erickson)
The prize jury also recognized two honorable mentions:
Aviv Rau '19 (Sociology, American Studies ): "Conditionally Coed: Parenting, Policing, and Producing Womanhood at Wesleyan University, 1872-1912" – A paper written for SOC 399G: Critical University Studies (Prof. Boggs)
Celeste Smith '19(Earth and Environmental Sciences and Science in Society Program): "Humans, Comets, and Nitrogen: Gothic Science Fiction's Expansion into the New Millennium" – A paper written for HIST 387: History of the End (Prof. Fullilove)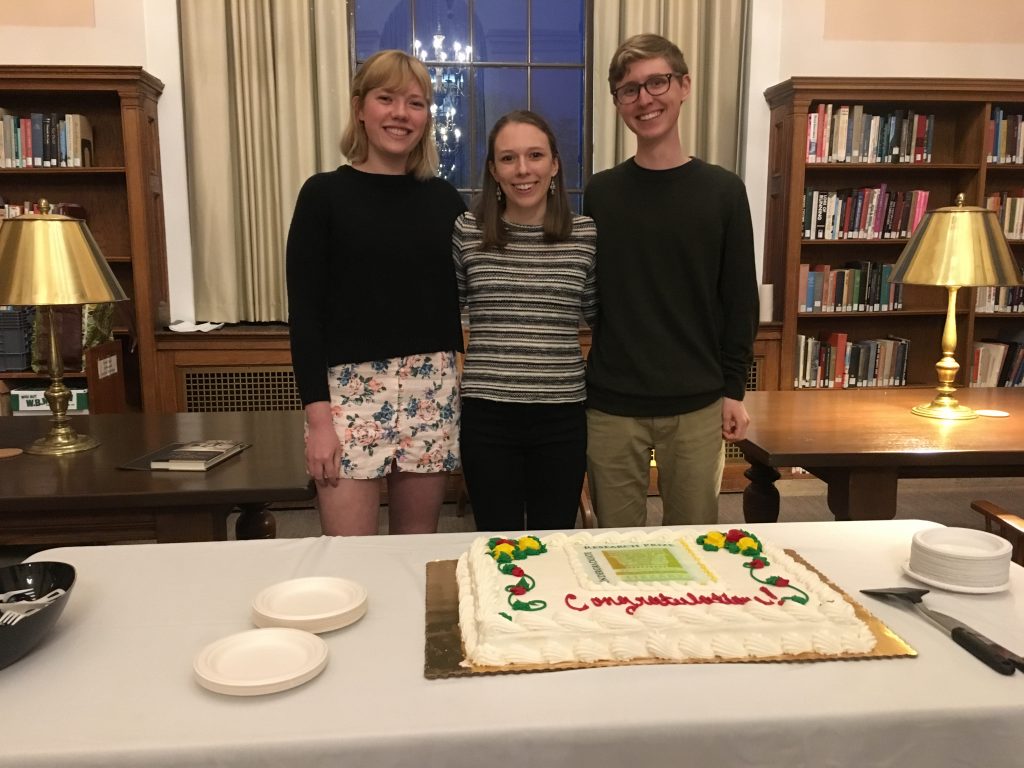 The members of this year's prize jury were:
Valeria López Fadul, Assistant Professor of History and Latin American Studies
​Michael Meere,  Assistant Professor of French and Medieval Studies, Chair of the Board of the Friends of the Wesleyan Library
Joyce Powzyk, Associate Professor of the Practice in Biology
Roman Utkin, Assistant Professor of Russian, East European, and Eurasian Studies and Feminist, Gender and Sexuality Studies
Emily Voss, Outreach and Academic Engagement Librarian
Andrew White, Caleb T. Winchester University Librarian
Stephen Darnell '69 sponsored the 2019 prizes though a generous special project donation to the Friends.  The library is grateful for his support in promoting student excellence.
Read more about the winners in the Wesleyan Connection.