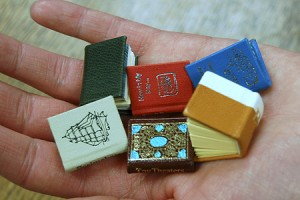 "A World in the Palm of Your Hand: The Art of Miniature Books"
Imagine a handful of books with beautiful bindings and engaging, often unique, content.  Miniature books, typically no larger than three inches, are seldom encountered outside of the collections of certain libraries and individuals.  Now you have an opportunity to experience these treasures in an exhibit created by the Miniature Book Society, an international organization devoted to the appreciation of miniature books. All events are free and open to the public.  For more information, email libfriends@wesleyan.edu.  Sponsored by the Friends of the Wesleyan Library.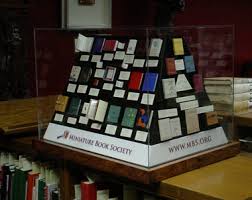 Miniature Book Society Exhibit
April 12–June 23, 2016 • during library hours
Olin Memorial Library Lobby, 252 Church Street, Middletown, CT  06459
+++++++++++++++++++++++++++
2016 Friends of the Wesleyan Library Annual Meeting Event
"A Collection in a Shoebox"– A talk by Jim Brogan
Thursday, April 14, 2016 • 7:00 pm
Develin Room, 2nd floor Olin Memorial Library
Jim Brogan is Vice President of MBS and publisher of The Microbibliophile, a bimonthly journal about miniature books and the book arts.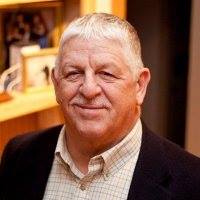 in conjunction with:
Wesleyan Miniature Book Open House
Thursday, April 14, 2016 • 12:00-1:00 pm, 6:30-7:00 pm, 8:00-8:30 pm
Davison Rare Book Room, Special Collections & Archives, 1st floor Olin Library
View a selection of Wesleyan's miniature books.