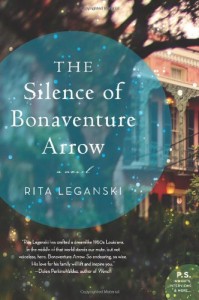 The 2014 One Book, One Middletown selection is The Silence of Bonaventure Arrow, by Rita Leganski.  The story is set in 1950s Louisiana, about a young boy whose unique abilities are misconstrued as disabilities and how he transforms the lives of those around him.  It is a lyrical and enchanting debut novel.
One Book, One Middletown is a program sponsored by the Middletown Rotary Club, the City of Middletown, Russell Library and a variety of businesses, libraries and other local organizations.  The purpose of One Book is to encourage reading and strengthen community ties by selecting a book each year with wide appeal, then bringing people together to talk about it.
In late March and early April 2014 there will be a series of discussions and events that explore the ideas in Bonaventure Arrow; the schedule of events will be available in early January.  Till then, pick up a copy of the book in Olin's lobby or Russell Library, or purchase a copy at The Book Bower or through your favorite local bookseller.