Announcing Night Flying, by Joy Christine Mlozanowski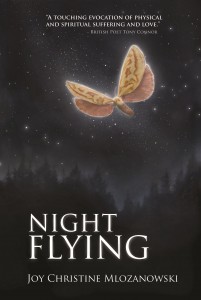 From Amazon.com: " In her diary, Mae questions God as she and her husband confront the news of an abnormal pregnancy and agonize over the decisions they face. Needing time away to think, she visits her childhood home and reconnects with Will, a deaf friend who taught her to sign when they were young. After her visit, Mae and Will continue an intimate written exchange in which she confides her despair, while Will shares his own struggle to honor the wishes of his dying father, and reconcile his mother's reluctance to let go.
This collection of correspondences between Mae and Will form a powerful, nonjudgmental narrative around faith and the controversial topics of abortion and end-of-life care. Their story is one of understanding and hope, and promises to deeply touch anyone who has faced these difficult and heartbreaking choices."
A review from Tony Connor, poet, playwright, and Fellow of the Royal Society of Literature:
"Night Flying navigates darkness using only the instruments of the author's finely tuned imagination. The work defies classification—poem, novella, epistolary meditation—while engaging many literary modes and amply fulfilling Ezra Pound's famous dictum, Make it new.
Audacious and original, it fuses Job-like questioning of God's goodness with the colloquial exchange of emails, touching, as it does so, upon religious heritage, the flawed human flesh, childhood hopes, death's certainty, the limits of language and truths to be apprehended only in silence. At the same time, the work embodies a powerful dialogue between the certainties of tradition and the dislocations of post-modernism, which in no way obscures its simpler and grander purpose.
Night Flying is, above all else, a touching evocation of physical and spiritual suffering and love."
Click here to purchase.
Congratulations to Joy!  We know her as a wonderful colleague and now also as a "writer, artist, and a transpersonal hypnotherapist with an interest in expressive arts."  A reception will be held in the spring.